5 Best Places to Live in St. Petersburg (Top Neighborhoods)
Posted by Kendall Bonner on Thursday, September 28, 2023 at 9:45 AM
By Kendall Bonner / September 28, 2023
Comment
Top Places to Live in St. Pete, FL
Here are some of our favorite locations to live in St. Petersburg, FL (St. Pete), including the best neighborhoods. St. Petersburg is one of the best places to live in Florida, with close proximity to a lively downtown area, the beach, and other major cities like Tampa and Clearwater.
The area is home to families, young professionals, and retirees alike, with many job opportunities and fun things to do. St. Pete is known for its lively art scene and wealth of activities like shopping, restaurants, art galleries, breweries, bars, and parks. The area is very diverse. Maybe you're already planning to move to the area and just want to know the best areas to live in St. Pete.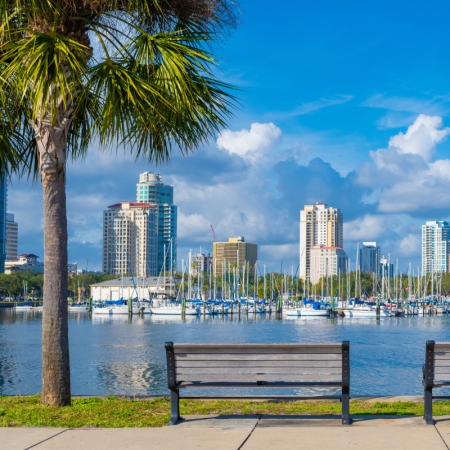 St. Petersburg is a highly desirable place to live, but with so many neighborhoods to choose from, it can be difficult to know where to begin your search for a home. Whether you're looking for a condo with resort-style amenities, a private suburban community, or something in between, St. Petersburg has something to offer everyone. We've compiled a list of five of our favorite neighborhoods in St. Petersburg, and we're happy to share our reasons for why we think they're great. If you're not sure which neighborhood is right for you, our experienced St. Petersburg real estate agents can help you find the perfect home in the area that best suits your needs.
List of the Best St. Pete Neighborhoods
Want to know the best places in Saint Pete to move to when looking for your next house? Here are 5 of our favorite St Pete neighborhoods: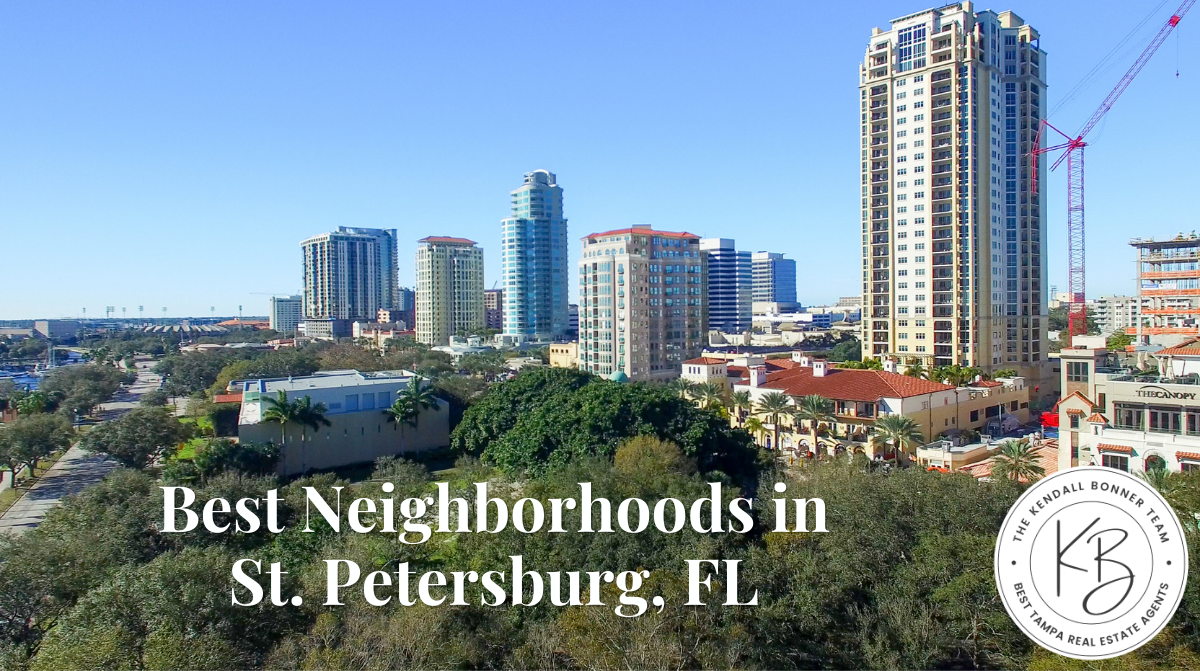 Downtown St. Petersburg
If you dream of a walkable city with delicious restaurants, boutique stores, and trendy coffee shops, Downtown St. Pete is where you want to be. Known for its art and whimsy, Downtown is bustling with murals, rainbow crosswalks, art galleries, and thrift shops. The area has a healthy mix of apartments, condominiums, and single-family home living, with activities for the whole family to enjoy. Well-known attractions include the Dali Museum, the St. Pete Pier, North and South Straub Park, and Tropicana Field where the Tampa Bay Rays baseball team plays. The area continues to grow in popularity and scope, with the median home price of downtown St. Petersburg being around $554,000 in November 2022.
Crescent Lake
Crescent Lake is the perfect historic area for all nature lovers. The area is named for the beautiful Crescent Lake and Crescent Lake Park, a 56-acre public lakeside park surrounded by large banyan trees with tennis courts, playgrounds, a dog park, and free yoga. You can take a stroll around the lake or visit local beloved eateries like The Left Bank Bistro, Hook's on 9th, or Clean Juice. The area is upscale, super dog friendly, and has safe residential neighborhoods. As of November 2022, the median home price of Crescent Lake, St Pete is around $725,000.
Historic Kenwood
Located northwest of Downtown, you'll find Historic Kenwood, an artsy district known for its charming bungalow-style homes. Running through the area is 1st Ave, one of St. Pete's main roads lined with well-rated bars and restaurants like Casita Taqueria, The Saint, Mixers, and Salty Nun. Other notable eateries in the area include Fray's Donut House, Beau & Mo's Italian Steakhouse, and Rocking Crab Seafood And Bar. The area is walkable, tree-lined, diverse, and very safe, with close access to highways for easy commuting. The area is more affordable than others in St. Pete, with the median home price of Historic Kenwood, St Pete being around $425,000 in November 2022.
Historic Old Northeast
Historic Old Northeast is a beloved waterfront area home to some of St. Pete's most famous attractions. Near the south side, you'll find Vinoy Park, a gorgeous 11.6-acre park right on the Bay with sprawling grass for laying in the sun and palm trees for hammocking. You'll know you're close to the park when you spot the giant pink Vinoy® Renaissance St. Petersburg Resort & Golf Club right next to it. Running parallel to the park is Beach Dr. NE, a long road with some of St. Pete's best restaurants and dessert shops. Also in Historic Old Northeast are The Sunken Gardens, 4 acres of gorgeous botanical gardens that have been a staple of St. Pete for over a century, making it one of the oldest roadside attractions in the United States. The area is highly walkable, well-maintained, and has endless options for recreation. As of November 2022, the median home price for Historic Old Northeast in St. Petersburg, Florida comes in at around $550,000.
Coquina Key
If you're looking to go a little outside of the city for island or waterfront living, then Coquina Key is the place for you. One of the southernmost areas in St. Pete, Coquina Key is a well-maintained, residential suburban area with views with close access to the Bay. It has quaint, tree-lined streets and is home to the Waterside Yacht Club for those who like to boat. Toward the top of the island is Coquina Key Park, a lush green park with playgrounds, a dog park, cooking grills, shelters, and sports fields. This area is a bit more affordable, with the median home price for Coquina Key, St. Pete coming in at around $300,000 (as of November 2022).
Choosing to move to St. Petersburg is a great decision! With so many wonderful neighborhoods to choose from, it can feel like a daunting task to pick one. That's where we can help.
If you're interested in moving to St. Petersburg, contact us today. We'll be happy to help you find the perfect home in the ideal neighborhood for you.
Featured St. Pete-Area Communities
Review of Best St Petersburg Neighborhoods Realtors
®


"We recently selected Kendall and her team to assist us in finding a home for my parents. They truly exceeded our expectations. Every member of the team was professional, courteous, and responsive throughout our journey. They "exceeded" our expectations by displaying a high level of personal commitment and empathy toward my parents - knowing when to be protective of their feelings and consistently looking out for their best interest. Kendall and her team gave us everything we requested - throughout every step. I would highly recommend her and her team to anyone who asks." -Samantha J. on Google.
As of 9/28/2023, there are 556 reviews, with a 5.0 star rating.